News
Ukraine war threatens Africa's food security
"Russia and Ukraine are among the world's most important grain exporters. Several African countries are dependent on supplies and would not be able to replace a shortfall or decline, even in the long term," says Tobias Heidland, research director and member of the Africa research cluster at the Kiel Institute for the World Economy. "This can have dramatic consequences for individual countries, and, in the worst case, lead to serious hunger and social unrest."
Together with other researchers from the Kiel Institute and the African Development Bank, he has simulated the long-term consequences of the Ukraine war on Africa's grain supply using the Kiel Institute Trade Policy Evaluation (KITE) model (Balma et al. "Long-Run Impacts of the Conflict in Ukraine on Food Security in Africa"). The estimations consider wheat and other grains, such as maize, sorghum, barley, and rice.
The researchers consider several scenarios: For instance, Ukraine's growing potential for grains will be severely limited due to destructions and a war economy (grain productivity falling by half) and increasing transport costs for trade with both Ukraine (+50%) and Russia (+25%).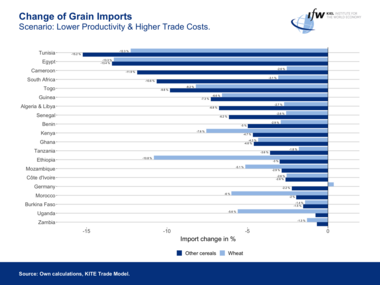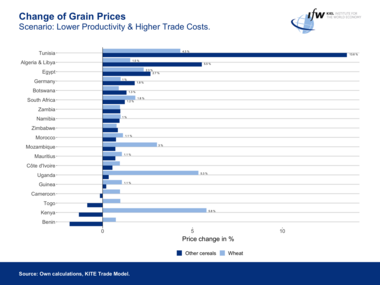 The consequences are a decline in Ukrainian and Russian grain harvests, which results in higher prices and translates into falling African grain imports—not just from Ukraine and Russia, but overall. The effects would be strongest in the two North African countries Egypt and Tunisia, because their dependence on grain imports from Ukraine and Russia is highest.
In significantly poorer countries, such as Rwanda, Tanzania, Mozambique, Kenya, or Cameroon, the effects are smaller, but the damage to people could be all the more dramatic because in these countries' food security is already strained.
According to the estimates, wheat imports decline most significantly in Egypt (-13.3%), Tunisia (-12.3%), and Ethiopia (-10.8%). For other cereals, Tunisia (-15.2%), Egypt (-13.4%), and Cameroon (-11.9%) are the most affected.
The highest price increases for wheat are found in Kenya (+5.8%), Uganda (+5.2%), Tunisia (+4.3%), and Mozambique (+3%), and for other cereals in Tunisia (+13.6%) and Algeria and Libya, combined as a country group in the trade model (+5.5%).
"The war in Ukraine is a real threat to food security for millions in Africa. A new reality on the world grain market, where Ukraine and Russia might for a long time not supply grain as usual, is clearly to the detriment of several African countries. Our calculations are about the long term. The short-term consequences, that is before other producers step in, are likely to be more severe than our estimates suggest," says Heidland.
"An important lesson from this crisis is that African decision-makers should reduce countries' dependence on single suppliers, even if it means higher costs. It is an investment in long-term food security in a geopolitically less stable world."
In another scenario, the researchers calculate the consequences of a hypothetical grain export ban by Russia that would come in addition to reduced production in Ukraine and increased trade costs. In this case, the consequences for Africa would be more dramatic than in the previous scenarios, particularly with regard to wheat, which is the main grain Russia exports.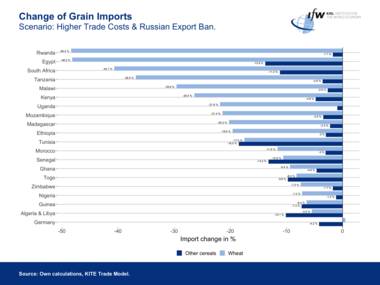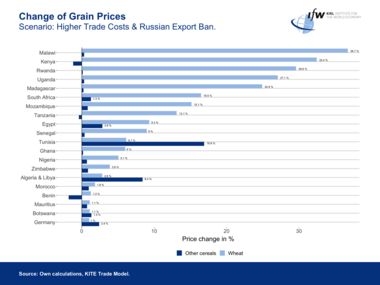 The simulations suggest that Rwanda would reduce its wheat imports by almost half (-48.4%) in response to a price rise by over a third (+39.6%). In Kenya (imports -26.4%; prices: +32.4%), in Tanzania (imports -36.9%; prices +13.1%), and in Mozambique (imports -21.4%; prices: +15.1%) the consequences for food security would be severe.
"An export ban on grain by Russia could lead to serious hunger for parts of these countries' population. A way out could be replacing grain import shortfalls with other food or through own or trade partners' production increases. If food is not affordable any more, it would, for example, lead to ripple effects on child health, mortality, and education—creating detrimental long-term consequences. Furthermore, countries might become less stable. Hence, there is a clear case for the West to support the most severely affected countries," says Heidland.
Western countries such as Germany are far less affected by the war in Ukraine in terms of their grain supply security. Noticeable changes would be observed with regard to animal feed. In the most drastic case of an export ban by Russia, the imported volume of other cereals, which includes feed corn, would fall by a good 4 percent, while prices would rise by a good 2 percent.
The KITE trade model simulates the long-term and permanent changes in trade flows when conditions change. That can happen, for example, through the changes in trade barriers, the loss of an entire country as a trading partner. The short-term consequences and adjustment processes are not reflected in the model. In many cases, they are likely to be more severe because adaptation takes time.