Global Solutions Summit 2019
Achieving Paradigm Change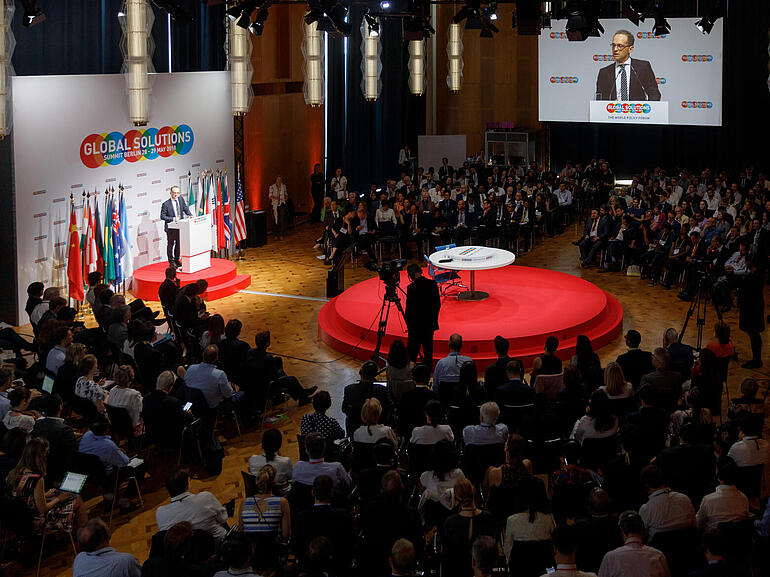 The annual Global Solutions Summit held by the Global Solutions Initiative brings together international research organizations, thought leaders and decision makers from politics, business and civil communities. We are keen to announce that the next summit will take place on March 18-19, 2019 in Berlin. The summit aims to provide policy recommendations on major G20 issues, thereby serving as a stepping stone to the Japanese T20 Summit in May 2019 and the Japanese G20 Summit in June 2019. The Global Solutions Summit 2019 is a T20 Japan associated event.
The Global Solutions Summit 2019 will focus on the priorities of the Japanese G20 Presidency, including policy recommendations on sustainable development, infrastructure finance, financial architecture, trade and investment, climate change, future of work and education, social cohesion and the future of politics, SME policy, policies for aging populations, and more. All discussions will be linked to the overarching narrative of recoupling economic, environmental and social progress. We will furthermore highlight all relevant issues for the future of multilateralism and strengthen the implementation site in our discussions.
Learn more about the Global Solutions Initiative
Selected Speakers
Angela Merkel
Chancellor of the Federal Republic of Germany.
Olaf Scholz
Vice Chancellor, Federal Minister of Finance, Germany
Frans Timmermans
First Vice-President of the European Commission
Valdis Dombrovskis
European Commission Vice-President for the Euro and Social Dialogue
Katarina Barley
Federal Minister of Justice and Consumer Protection, Germany
Hubertus Heil
Federal Minister of Labour and Social Affairs, Germany
Pascal Lamy
Honorary President, Notre Europe - Jacques Delors Institute
Simone Menne
Supervisory Board Member, BMW Group, DPDHL, Johnson Controls International Holdings Ltd
Klaus Kleinfeld
Investor and Economic Advisor to Saudi Arabia's Crown Prince
Paul Collier
Professor of Economics and Public Policy, Blavatnik School of Government, Oxford University
Niels Annen
Minister of State at the Federal Foreign Office, Germany
Ellen Ehmke
Analyst Social Inequality, Oxfam Germany
Conny Czymoch
International Moderator and Journalist
Alexander Bonde
Secretary General, Deutsche Bundesstiftung Umwelt (DBU), German Federal Environmental Foundation