News
With these sanctions, the West hits Russia's economy the hardest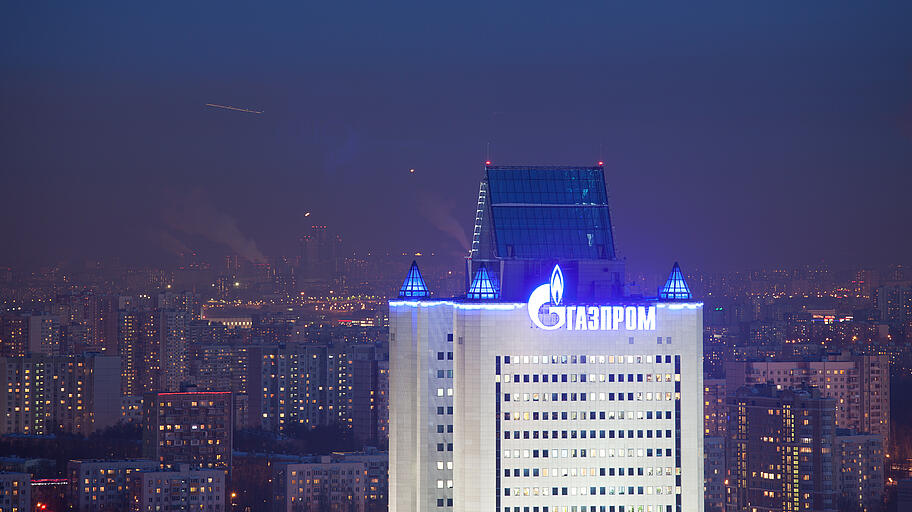 Simulation calculations in the KITE trade model of the Kiel Institute for the World Economy show what the effects of a trade embargo against Russia would be for certain product groups in the medium term. A complete stop of all imports and exports for the respective product group by the Western allies was simulated (all countries included in the calculations are listed at the end of the media information).
According to the calculations, a gas embargo would have the most serious economic consequences, with Russia's gross domestic product (GDP) slumping by 2.9 percent. Germany's GDP, on the other hand, would actually increase slightly by 0.1 percent, and the EU's GDP would also rise minimally. The calculations also apply if Russia were to impose a gas embargo.
The reason for the plus is that the Western allies would replace Russia's missing imports with products from the allies, and here Germany is particularly competitive. In the event of a gas embargo, Germany would have a cost advantage in the energy-intensive production or processing of metals, for example, because its production input mix consists of only a relatively small proportion of gas.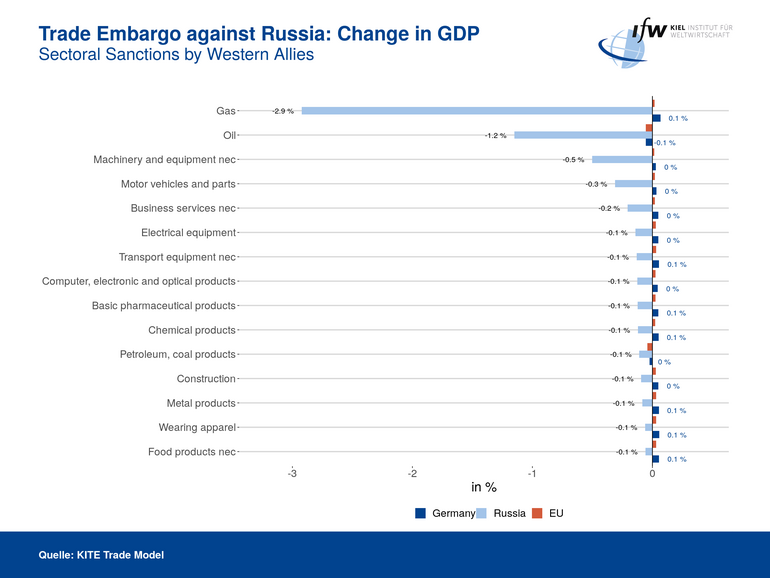 A trade embargo on oil would result in a 1.2 percent decline in economic output for Russia, and 0.1 percent each for Germany and the EU. An embargo on machinery and machinery parts would cause Russia's economy to shrink by 0.5 percent, and an embargo on vehicles and vehicle parts by 0.3 percent. For Germany and the EU, both measures would have only minimal negative effects.
"Our calculations are of an exemplary nature, but they clearly show that the medium-term economic consequences of trade embargoes would hit Russia much harder than the Western allies. Thus, a Russian threat to halt supplies of gas and/or oil would not be very credible. Further, the halt to Nord Stream2 by the German government is an understandable move in order not to strengthen Russia's geopolitical position and is per se not associated with any decreased gas supply," said Hendrik Mahlkow, trade researcher at the Kiel Institute, who carried out the calculations.
The group of Western allies included the following countries in the model calculations: Albania, Australia, Austria, Belgium, Bulgaria, Canada, Croatia, Cyprus, Czech Republic, Denmark, Estonia, Finland, France, Georgia, Germany, Greece, Hungary, Ireland, Italy, Japan, Latvia, Lithuania, Luxembourg, Malta, Montenegro, Netherlands, New Zealand, Norway, Poland, Portugal, Romania, Slovakia, Slovenia, Spain, Sweden, Ukraine, United Kingdom, United States.