News
Ukraine Support Tracker: Fewer new pledges overall, with notable exceptions
Compared to December 2022, we see a decline in the amounts of new aid pledged to Ukraine. In the newly covered period, January 16 to February 24, 2023, a total of EUR 12.96 billion was committed to Ukraine, with much of that coming from just a handful of donors.
Most notable are the Scandinavian countries, with Norway (EUR 1.11 billion, an increase of 90%), Sweden (EUR 0.33 billion, plus 41%), Denmark (EUR 0.24 billion, plus 33%), and Finland (EUR 0.56 billion, plus 165%) being particularly generous. Other countries standing out are Japan, pledging significant new financial aid worth EUR 5.1 billion in the form of loans, and the Netherlands with EUR 2.5 billion, intended among others for a new Patriot system for Ukraine.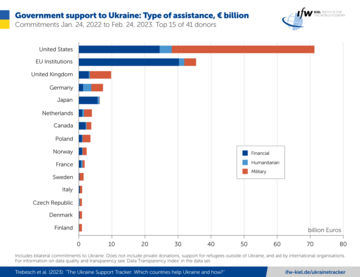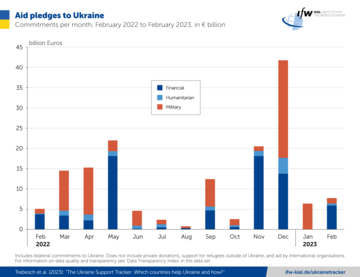 A new trend in Ukraine aid is the adoption of longer planning horizons. Previously, aid commitments were short-term and difficult to predict. Only the United States made commitments for an entire budget year. Now, other countries such as the United Kingdom and the Netherlands are following this model by promising to provide the same amount of aid in 2023 as they did in 2022. Norway has even announced a multi-year Ukraine support program with financial and military aid worth approximately EUR 7 billion over the next 5 years. "The trend towards single or multi-year planning in aid to Ukraine is very positive. In 2022, commitments were mostly uncoordinated and ad hoc. This made budget and military planning in Ukraine very difficult. It is encouraging that some western governments are now taking the lead in making medium-term commitments," says Christoph Trebesch, head of the team that created the Ukraine Support Tracker and research center director at the Kiel Institute.
About the Ukraine Support Tracker
The Ukraine Support Tracker lists and quantifies military, financial and humanitarian aid pledged to Ukraine since January 24, 2022 (currently through January 15, 2023). It covers 40 countries, specifically the EU member states, other members of the G7, as well as Australia, South Korea, Turkey, Norway, New Zealand, Switzerland, China, Taiwan, and India. Also, EU institutions are included as a separate donor. The tracker lists government-to-government commitments; private donations or those from international organizations such as the IMF are not included in the main database. Flows going into other countries like, for example, Moldova, are not included.
With regard to sources, the database combines official government sources with information from international media. Aid provided in kind, such as medical supplies, food, or military equipment, is quantified on the basis of market prices or information from previous crises involving government aid. In case of doubt, upper bounds of prices are used.
The Ukraine Support Tracker is constantly being expanded, corrected, and improved. Suggestions are very welcome and can be sent to ukrainetracker@ifw-kiel.de.
More information and detailed data can be found on this webpage: Ukraine Support Tracker