News
Ukraine Support Tracker: Europe surpasses the U.S. in total committed aid
In the period now additionally covered by the Ukraine Support Tracker (October 4 to November 20), the EU has significantly expanded its support commitments. EU countries and institutions now total nearly 52 billion euros in military, financial, and humanitarian assistance. The commitments made by the U.S. add up to just under 48 billion euros. The main reason for the changes is an 18-billion-euro Macro-Financial Assistance (MFA) package agreed by the EU for 2023. The U.S. has not again extended its overall large support pledges, and some funds released by Congress have lapsed unused in the meantime as the budget year 2022 has come to a close.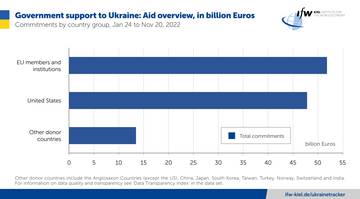 "Until now, the EU's support to Ukraine since the start of the war has always lagged behind that of the United States. This has changed in recent weeks, as the total value of EU commitments now exceeds those of the U.S. The large new EU pledges are a welcome development, given the major role of this war for European security. Importantly, however, the EU governments should now ensure that the announced aid actually reaches Ukraine as quickly as possible, without the many months of delay of previous packages," says Christoph Trebesch, head of the team producing the Ukraine Support Tracker and research center director at the Kiel Institute.
Germany's new commitments and its contribution to the large new EU package now make it the largest donor in Europe in absolute terms, overtaking the UK for the first time, with a total of 12.6 billion euros in German pledged support to Ukraine. Germany committed and delivered more weapons, winter equipment, plus a large new package to support cybersecurity and war crime intelligence efforts." Given Russia's heavy airstrikes on civilian infrastructure, the speed of aid provision is particularly crucial at this point. Ukraine urgently needs more emergency power generators, transformers, but also more defense capabilities, to keep people from freezing and suffering extensive power outages. For example, of five pledged IRIS-T air defense systems, Germany has so far delivered only one."
In total, twelve air defense systems have been newly pledged to Ukraine from Europe and the U.S. in October and November, while 13 out of at least 31 committed systems had been delivered in the same timeframe.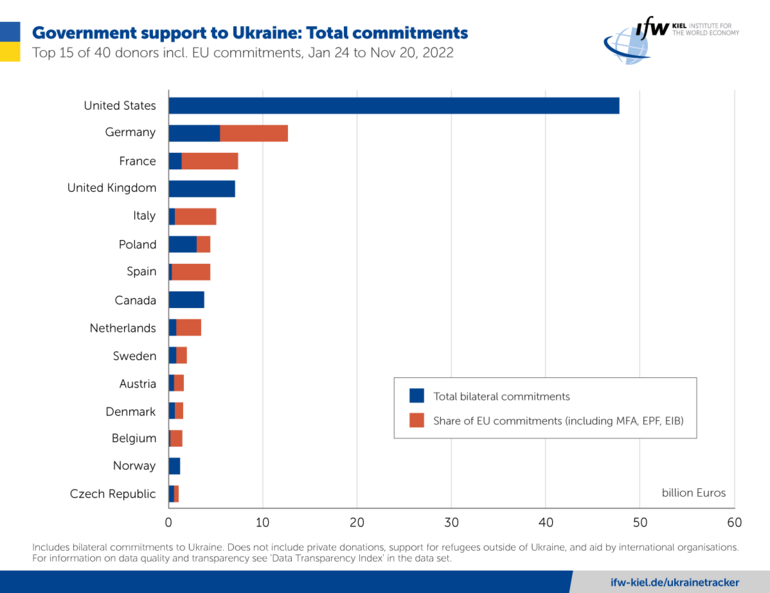 To further increase the usability and reliability of our data, the Ukraine Support Tracker now also includes a data quality and transparency index. Across governments and donors, there are significant differences in the transparency and quality of published information on support to Ukraine. "The quality of the provided data has increased over time and is now relatively high for most countries. This facilitates comparison and allows a better picture of actual support to Ukraine. But we are still very far from full transparency," says Trebesch.
About the Ukraine Support Tracker
The Ukraine Support Tracker lists and quantifies military, financial and humanitarian aid pledged to Ukraine since January 24, 2022 (currently through November 20, 2022). It covers 40 countries, specifically the EU member states, other members of the G7, as well as Australia, South Korea, Turkey, Norway, New Zealand, Switzerland, China, Taiwan, and India. Also, EU institutions are included as a separate donor. The tracker lists government-to-government commitments; private donations or those from international organizations such as the IMF are not included in the main database. Flows going into other countries like, for example, Moldova, are not included.
With regard to sources, the database combines official government sources with information from international media. Aid provided in kind, such as medical supplies, food, or military equipment, is quantified on the basis of market prices or information from previous crises involving government aid. In case of doubt, upper bounds of prices are used.
The Ukraine Support Tracker is constantly being expanded, corrected, and improved. Suggestions are very welcome and can be sent to ukrainetracker@ifw-kiel.de.
More information and detailed data can be found on this webpage: Ukraine Support Tracker