News
Ukraine Support Tracker: Europe clearly overtakes US, with total commitments now twice as large
Over the summer, the European Union has sent a clear signal by announcing a new €50 billion multi-year support package to be delivered between 2023 and 2027, which doubles total EU commitments. The EU's "Ukraine Facility" is part of the EU's budget plans until 2027, showing a lasting commitment to support Ukraine.
In addition to the new EU-level pledges, there have been important new multi-year commitments from individual European countries, in particular a 4-year military support package of Germany worth €10.5 billion (2024–2027) and Norway's "Nansen Support Program" worth €6.6 billion over 5 years. Additional multi-year packages were committed by Denmark, UK, Switzerland, Sweden, Portugal, and Lithuania.
Beyond these multi-year plans the Ukraine Support Tracker lists new, short-term commitment increases from Europe, in particular by Germany worth €619 million and by the United Kingdom worth €286 million.
"It is remarkable how quickly Europe has moved towards a new and substantive multi-year support program for Ukraine. For the first time, the US is now lagging behind by a large margin, also because there have been no meaningful new US pledges over the past months. The doubling of EU aid is a notable shift compared to the first year of the war, when the US clearly lead the way," says Christoph Trebesch, head of the team producing the Ukraine Support Tracker and director of a research center at Kiel Institute.
Total EU commitments are now almost double those of the US. When adding other Western European countries that are not part of the EU (UK, Norway, Switzerland), the gap widens further. Specifically, the Tracker lists a total of €156 billion commitments by all main European donors (EU and non-EU), compared to less than €70 billion by the US.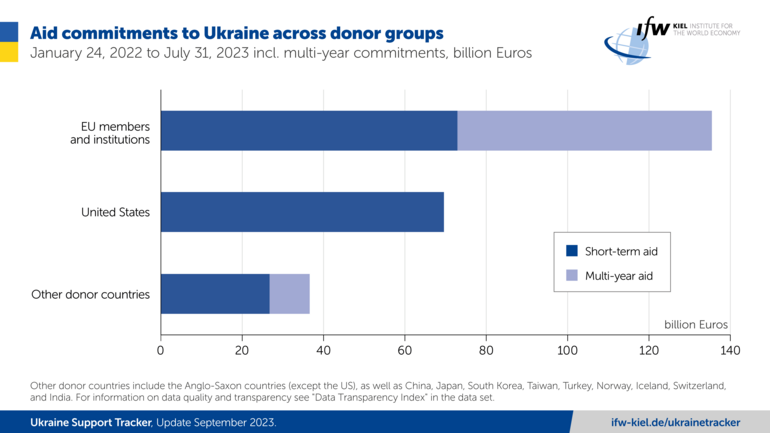 With this update, the Ukraine Support Tracker also includes pledges made in June and July, and therefore covers support announcements made between January 24, 2022, and July 31, 2023. It now also systematically collects and counts information on multi-year packages, spanning up to five budgetary years into the future.
The new multi-year packages result in notable changes in the country rankings. As a percentage of GDP and considering these multi-year programs, Norway is now the biggest supporter of Ukraine, with aid to Ukraine amounting to 1.7 percent of its GDP. Whereby half of the €6.6 billion Nansen Support Program is dedicated to military aid, the other half to financial and humanitarian aid. Lithuania, Estonia, and Latvia follow in this ranking, and remain in the top spots even when factoring in multi-year commitments. Denmark now takes the 4th spot, with aid amounting to 1.1 percent of its GDP. This is due to the Danish National Ukraine Fund, which earmarks a total of almost €3 billion for Ukraine. The largest parts of the fund are military aid and are supposed to be used in 2023 and 2024.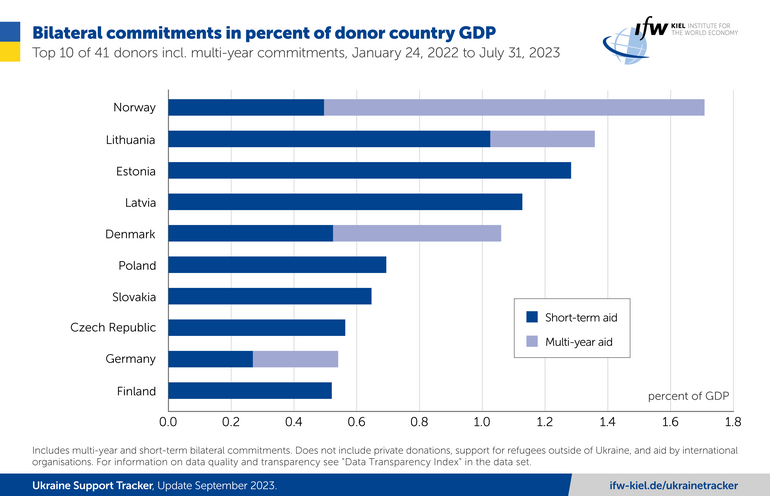 With regard to heavy weaponry, the data shows many more deliveries. The share of systems actually delivered in relation to those pledged increased by five percentage points to 69 percent on average in the latest update. However, the deliveries of tanks, artillery shells, and anti-air missile systems are still far below commitments.
"Despite the many promising new packages, it remains to be seen how much will actually be delivered and when. In the past, European donors were often slow in their deliveries, and this will hopefully be less the case going forward," says Trebesch.
About the Ukraine Support Tracker
The Ukraine Support Tracker tracks and quantifies military, financial, and humanitarian assistance pledged to Ukraine since January 24, 2022 (currently through July 31, 2023). Included are 41 countries, specifically the EU member states, the other members of the G7, Australia, South Korea, Turkey, Norway, New Zealand, Switzerland, Turkey, China, Taiwan, India, and Iceland. It includes pledges made by the governments of these countries to the Ukrainian government; aid pledged by the EU Commission and the European Investment Bank is listed separately; private donations or those from international organizations such as the IMF are not included in the main database. Nor does it include aid to Ukraine's neighbors, such as Moldova, or to other countries, such as for the reception of refugees.
Data sources include official government announcements and international media reports. Aid in kind, such as medical supplies, food, or military equipment, is estimated using market prices or information from previous relief operations. In cases of doubt, the higher available value is used. The Ukraine Support Tracker is constantly being expanded, corrected and improved. Feedback and comments on our methodology paper and dataset are very welcome. You can reach us at ukrainetracker@ifw-kiel.de or use our online feedback form.
More information and all detailed data can be found on the Ukraine Support Tracker webpage.