News
Kiel Institute Bernhard Harms Prize 2023 Awarded to Gita Gopinath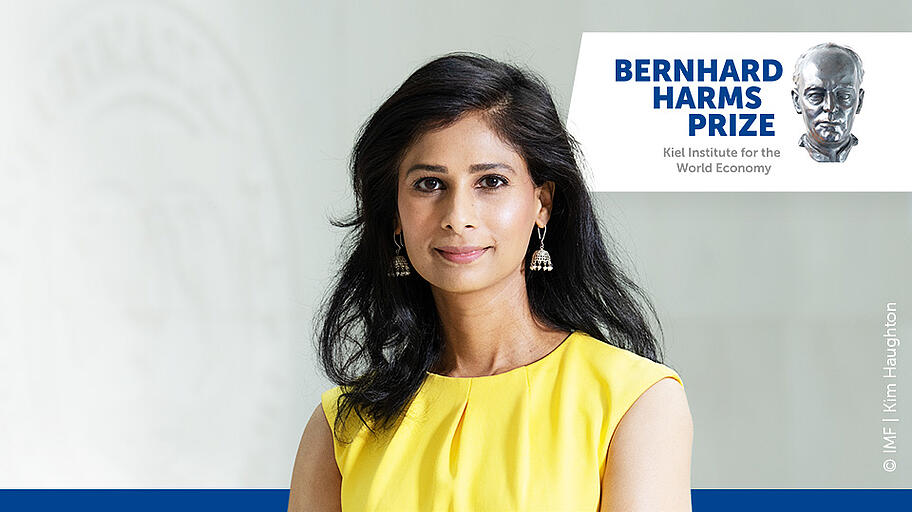 Early in her career, Gita Gopinath broke new ground in the study of sovereign debt and default, emerging market business cycles, and international capital allocation. More recently she has pioneered a prominent new research agenda on the role of dominant currencies in the international system. Together with her coauthors, she challenged conventional wisdom and introduced the concept of a "dominant currency paradigm", showing that the US Dollar's global role has far-reaching implications for exchange rates, international trade, and the conduct of monetary policy.
Before ascending to the IMF leadership, Gita Gopinath was a professor at Harvard University between 2005 and 2022. Prior to that, she was an assistant professor of economics at the University of Chicago's Booth School of Business. She received her Ph.D. in economics from Princeton University, after earning a B.A. from Lady Sri Ram College, and M.A. degrees from the Delhi School of Economics and the University of Washington.
"Through her work over the past two decades, Gita Gopinath has become one of the world's most influential scholars in the fields of international finance and international macroeconomics. A distinguishing feature of her work is that she elegantly combines theoretical modeling with state-of-the-art empirical analysis using rich data," said Moritz Schularick, President of the Kiel Institute for the World Economy. "Thanks to this, her research has expanded not only our theoretical understanding of international economics but has also provided crucial practical insights, be it on the topic of trade invoicing and exchange-rate pass-through or on the implications of low interest rates for productivity growth."
Besides her outstanding research, Gita has made significant contributions in addressing global challenges. As the Chief Economist of the IMF, she played a central role in navigating the global economy through the tumultuous years of the COVID-19 pandemic. She developed a bold plan to accelerate global vaccination efforts and advocated tirelessly for greater international cooperation. Simultaneously, she co-led the effort to reshape the IMF's approach to help countries manage international capital flows. This resulted in the innovative "Integrated Policy Framework", which has set a new standard in policy analysis and government guidance worldwide.
Gita Gopinath's CV on the IMF website
The Bernhard Harms Prize
Since 1964, the Kiel Institute's Bernhard Harms Prize has been awarded to distinguished scholars for their outstanding research in international economics as well as for exceptional efforts in advancing global economic relations. This year, the award ceremony will be held in Berlin for the first time. It will take place on November 30, 2023, in the historic "Weltsaal" of the Federal Foreign Office. The prize is endowed with 10,000 euros and is named after Bernhard Harms, who founded the Kiel Institute in 1914.
Recent winners of the Bernhard Harms Prize are Lord Nicholas Stern (2021), Carmen Reinhart (2018), Marc Melitz (2016), and Abhijit Banerjee (2014).