News
Global Economy Prize 2023 awarded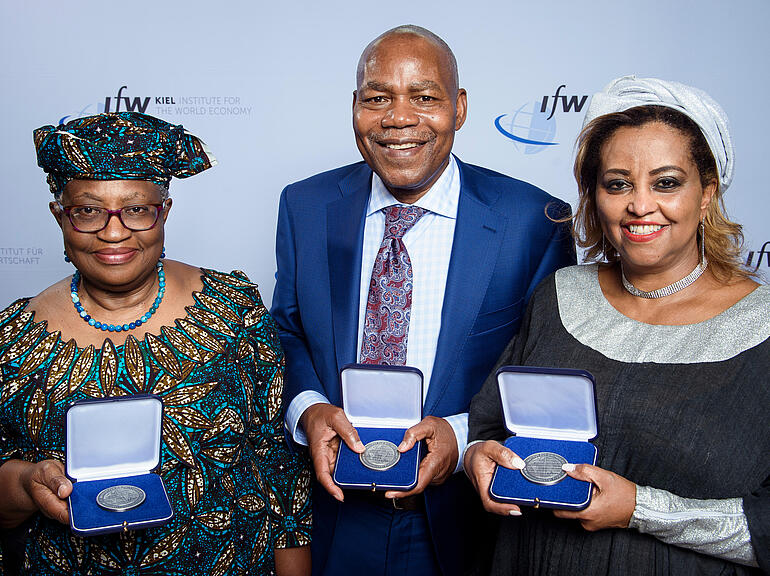 The following personalities were honored for their outstanding achievements and tireless commitment to Africa's sustainable development and as thought leaders of a cosmopolitan, free-market, and just and social society:
Dr. Ngozi Okonjo-Iweala, Director General World Trade Organization (WTO); Category: Politics.
Dr. Eleni Gabre-Madhin, Chief Innovation Officer, UNDP Regional Bureau for Africa; Category: Business.
Prof. Leonard Wantchekon, Ph.D., Princeton University; Category: Economics.
Monika Heinold, Minister of Finance of the State of Schleswig-Holstein, Dr. Ulf Kämpfer, Mayor of the State Capital Kiel, Knud Hansen, Vice President of the Schleswig-Holstein Chamber of Industry and Commerce, and Prof. Moritz Schularick, President of the Kiel Institute, welcomed about 200 guests.
In his speech and laudations, Schularick emphasized the laureates' services to the African continent.
He praised Ngozi Okonjo-Iweala as a knowledgeable finance and development expert, as well as a skilled and tenacious negotiator and consensus builder. "Without you, Nigeria's economy and society would still be reeling from widespread corruption that robs millions of their incomes for the benefit of a few criminals. You believe strongly in the power of trade and the power of multilateralism to lift developing countries out of poverty and help them achieve robust economic growth and sustainable development," Schularick said.
With regard to Eleni Gabre-Madhin, he emphasized that she has achieved something that many in the research dream of, which was successfully putting a scientifically sound idea into reality. "By creating an Ethiopian commodity exchange, you are making life easier for millions of people in Africa. Thanks to you, millions of small farmers in Ethiopia no longer have to suffer the exploitation of influential landowners and sell their agricultural products far below market prices. Your initiatives have helped improve the lives and opportunities of the rural population and numerous young people in many countries across the continent," Schularick said.
Leonard Wantchekon, he lauded, has been recognized worldwide as a development economist for his innovative scientific methods and groundbreaking work. At the same time, he has put his insights and social position at the service of Africa. Schularick: "The African School of Economics, which you founded and lead, opens the way for African students to receive an internationally recognized academic education. If this opportunity did not exist, African talents would still have to emigrate to other continents in order to obtain a high-quality degree."
The Global Economy Prize is an initiative of the Kiel Institute and is awarded annually in close cooperation with the state capital Kiel and the Schleswig-Holstein Chamber of Commerce and Industry. The non-endowed prize is intended to provide an impetus to overcome the major global economic challenges by finding creative solutions to problems.
The award is given to influential representatives from politics, business, and economic science who have made an outstanding contribution to a socially responsible society based on personal responsibility.
Monika Heinold, Minister of Finance and Deputy Minister President of Schleswig-Holstein:
"The Global Economy Prize brings great personalities from politics, business, and science to Schleswig-Holstein. On behalf of the state government, I would like to congratulate the laureates. The Kiel Institute is an outstanding research institution with a high level of international recognition, and with Prof. Dr. Moritz Schularick it has once again succeeded in attracting an experienced and renowned president."
Dr. Ulf Kämpfer, Mayor of the State Capital Kiel:
"The Kieler Woche is as diverse as our society and lives from the colorful togetherness. The mixture of top-class sport, culture, and socio-political events is unique in this form. For many years, the awarding of the Global Economic Prize has also contributed to its international reputation. I am delighted that the Kiel Institute for the World Economy is once again bringing together outstanding personalities from politics, business, and economics who are united by the goal of overcoming the major global challenges. This year's laureates, who have rendered outstanding services to Africa's development in various ways, are making important contributions to finding answers to the big questions of our time—and that also far beyond Kiel or Kiel Week."
Knud Hansen, President IHK zu Kiel and Vice President IHK Schleswig-Holstein:
"Africa is an established partner with growth prospects for Schleswig-Holstein and the companies based here. Not least, the restructuring of many global supply chains and the global challenges of climate change offer potential for expanding and deepening cooperation in Africa. For us in Schleswig-Holstein, this applies in particular to the wind and solar energy sectors, including the supplier segments. The IHK Network Office Africa (INA) and the IHK Schleswig-Holstein are happy to provide information and help to establish contacts."
More information about the Global Economy Prize and this year's winners.
The event (starting at 5:30 p.m.) will be livestreamed there. A recording and a group photo for download will be available later.