News
Germany Particularly Attractive for Chinese Investors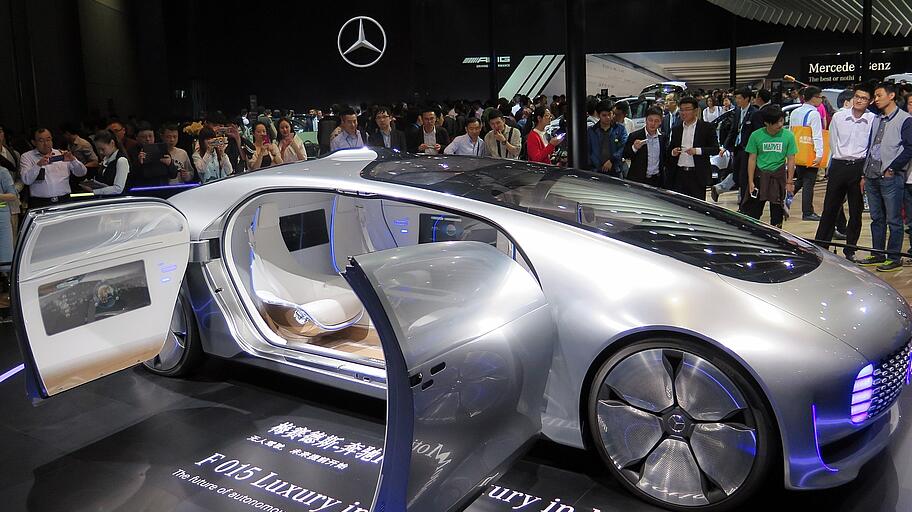 "The decisive change in favor of Germany as an investment destination country came from the Chinese government's paradigm shift away from low-tech labor-intensive manufacturing activities towards innovation-driven economic growth and higher value-added production activities. Foreign direct investment (FDI) in Germany is an important tool for China to gain access to know-how and advanced technologies from abroad," said Kiel Institute researcher Wan-Hsin Liu, based on a policy paper just published in Intereconomics (Xia and Liu (2021), China's Investments in Germany and the Impact of the COVID-19 Pandemic).
In terms of large-scale investment projects with transaction values of at least 100 million US dollars, the German transport sector and technology sector turned to be the main target industries of the Chinese investors in the recent past. More than 21 billion US dollars has flowed into the transport sector over the past 15 years (up to 2019), nearly 6.5 billion US dollars of which came from state-owned enterprises (SOEs). Over 90 percent of the money has been invested in the last five years, i.e., since the announcement of the Made in China Strategy 2025 in 2015.
Nearly 6 billion US dollars has flowed into the technology sector in Germany, mainly through investment projects by non-SOEs—also nearly 90 percent of the total in the last five years.
A total of 6.5 billion US dollars has been invested in the real estate sector since 2005, 5.8 billion US dollars of which came from SOEs. Different from the investments in the transport and technology sectors, investments in the real estate sector declined over the recent past. In the energy sector with Chinese investments of 3.6 billion US dollars since 2005, over 3 billion US dollars came from SOEs.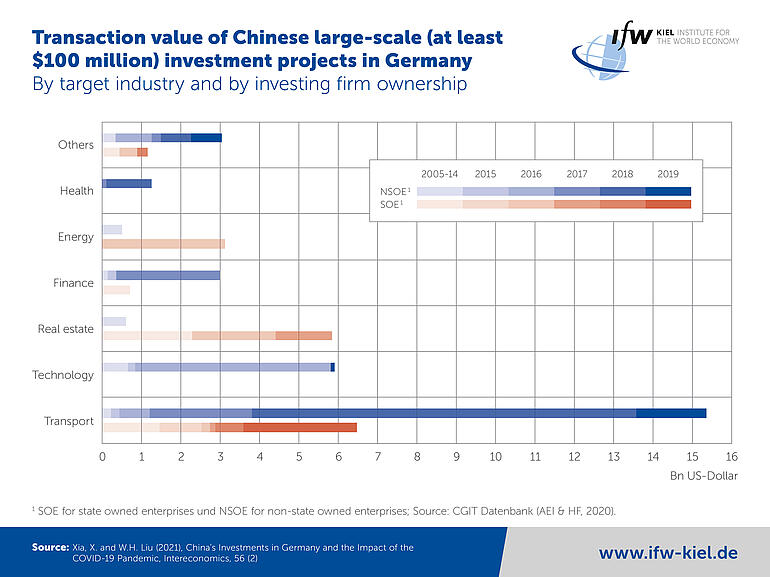 China is now the third-largest FDI investor worldwide, with a foreign capital stock of 2,100 billion US dollars at the end of 2019. In 2019 alone, 117 billion US dollars were invested abroad, compared to 0.9 billion US dollars in 2000. In terms of Chinese FDI stock, Germany ranks 10th among all oversea economies, behind the Netherlands (7) and the United Kingdom (8), but ahead of Luxembourg (12) and Sweden (15).
"Germany's importance as a destination country for Chinese investments will continue to grow. Information available to date on the new five-year plan indicates that China will further strengthen its national innovation capabilities and technological know-how. To achieve this, it needs not least the transfer of knowledge and technology from abroad, including from Germany."
A Kiel Institute survey of consulting firms in Germany (Xia and Liu, 2021) also found that the COVID-19 pandemic had only a small and rather short-term negative impact on Germany's attractiveness for Chinese Investments.
China's 14th Five-Year Plan, covering the period 2021 to 2025, is to be expected at the end of the National People's Congress, which started on March 5. Our experts will be providing analysis and commentary on the issue.