News
German economy's dependence on China: Critical for individual products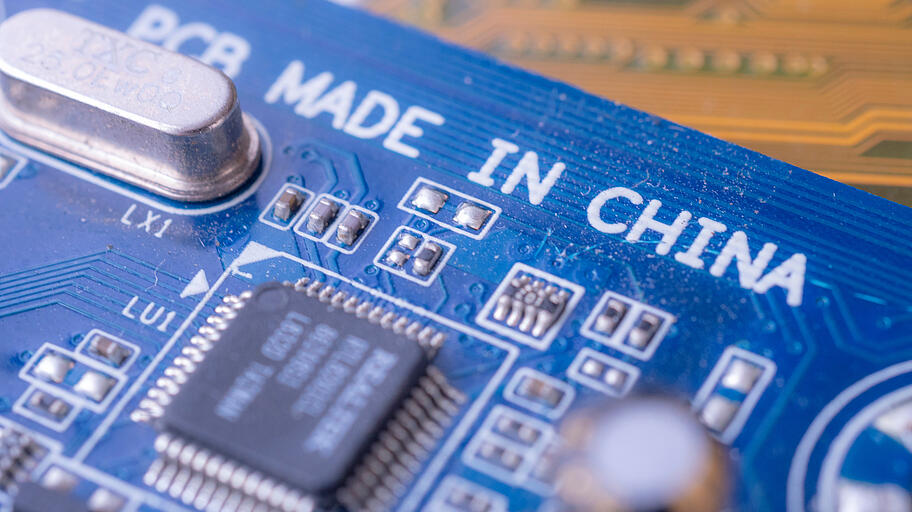 "To ensure security of supply with regard to critical raw materials as well as intermediate and final products, Germany urgently needs a strategy for more diversification. This would not only be the right response to increasing geopolitical rivalries, but also serves above all as a safeguard against supply bottlenecks," says Alexander Sandkamp, co-author of the Kiel Policy Brief "Empty shelves made in China".
According to the policy brief, product groups that are indispensable for the German economy and for which dependence on China is particularly high, are laptops with an import share of around 80 percent, cell phones (import share 68%), certain textile products (textile goods, 69%) computer units such as sound and graphics cards (62%), photographic elements and LEDs (61%), or printed circuit boards (printed circuits, 58%).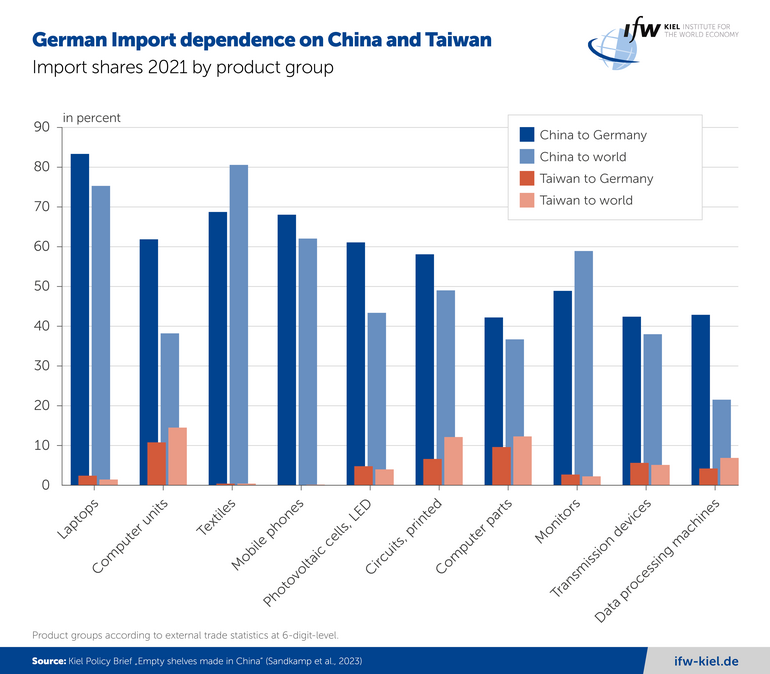 Some of the rare earths and raw materials that are important for the production of special technology and that are classified as critical by the EU are also dominated by China. For example, Germany sources 85 percent or more of its scandium and antimony from China. They are used, for example, in battery production or surface coating.
Germany's dependence on China is also extremely high in certain medical products, such as medical masks or painkillers, with import shares of over 90 percent in some cases.
China and Taiwan dominate 221 products
"Politically, a decoupling of Germany from China is no longer unthinkable. A military conflict between China and Taiwan is likely to trigger sanctions at the European level," Sandkamp said. "In such a case, Taiwan would probably also fail as a supplier due to Chinese blockades. That would exacerbate shortages for certain critical products."
In the case of computerunits and parts, as well as electronic switching units in particular, Taiwan also supplies a significant share of global and German demand alongside China. Should the EU boycott Chinese imports, there would be virtually no alternative suppliers available for these products. In addition, Taiwan is essential for the supply of bicycle components.
In total, the authors identify 221 products, for which China and Taiwan together dominate German imports. For the majority of products, the import share of both countries is over 80 percent.
Consumption and production in Germany are based primarily on own work
Apart from the critical intermediate inputs mentioned, however, the importance of China for the German economy is surprisingly low, according to the analysis. Only about 0.6 percent of the direct intermediate inputs required for German production come from China. More important are both the USA (0.8%) and France (0.7%). If one includes indirect intermediate inputs that Germany procures from third countries and which are produced there with the help of Chinese imports, China's share in German production rises to 1.5 percent.
China is also of only minor importance in the area of end products consumed in Germany. Directly, 1.4 percent of the goods and services consumed in Germany come from China. Taking indirect links into account, the share rises to 2.7 percent. China's importance for final consumption is thus almost twice as high as for German production.
The figures contrast with current trade statistics, according to which China is the most important country of origin for all German imports, accounting for just under 12 percent. A good 6 percent came from the USA and a good 5 percent from France. The entire European Union (EU) accounts for more than 50 percent of German imports.
"These classic trade flows alone are only of limited use in classifying China's economic importance for Germany. After all, Germany itself also produces intermediate and end products for domestic production and consumption," says Sandkamp.
EU-China trade conflict reduces German GDP by 1 percent in the long term
More than 80 percent of domestic production and more than 70 percent of domestic consumption thus originate from Germany's own output. According to model calculations, a decoupling of the EU from China, in which trade is reduced by 97 percent, would reduce German economic output by 1 percent in the long term—meaning that new supply structures have been found and established. Measured in terms of gross domestic product in 2021, this corresponds to lost value added of 36 billion euros every year.
"Our calculations show that the dependence of the German economy is only slight in macroeconomic terms. However, an abrupt break in trade relations would initially lead to shortages in important raw materials, medicines, and final products, with the consequence of considerable losses in prosperity for Germany," says Sandkamp.
"Policymakers must not wait until it is too late to look for alternative sources of supply, but must take preventive action today via free trade agreements, investment protection agreements, or investment guarantees. If possible, China should always be part of the German trade portfolio, but exclusive supply structures must be eliminated. Specifically, the EU should place a special focus on raw materials in the negotiations for a free trade agreement with Australia."