News
German Economy Stabilizes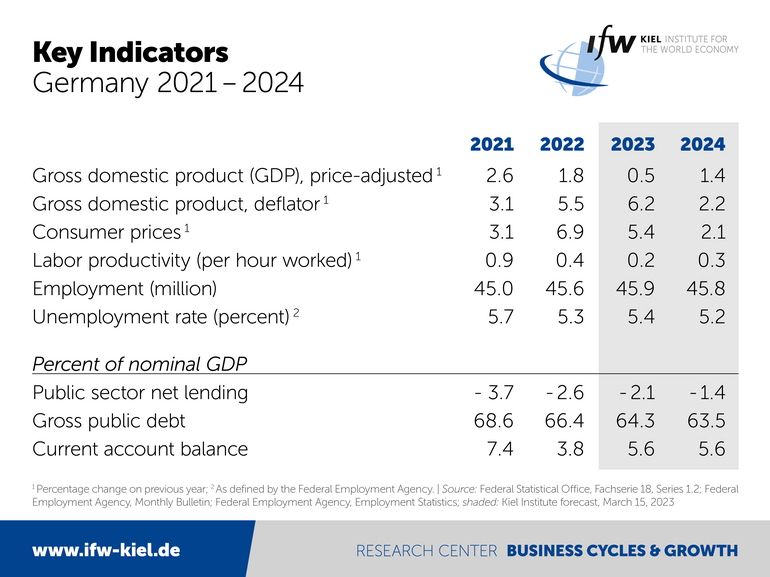 "The economic compass is pointing upwards again, but the momentum remains subdued. The recent sharp drop in gas prices is initially providing little stimulus to the economy in this country, it is primarily easing the burden on the government budget, which now must step in with fewer subsidies as part of the so-called energy price brakes. As a result, lower import prices are replacing the stimulus from state energy subsidies, which has a similar effect on the macro economy," comments Stefan Kooths, Vice President and Head of Economic Research at the Kiel Institute, on the current spring forecast for Germany, the euro area, and the world economy.
Following a decline in gross domestic product (GDP) in the 4th quarter of 2022, a moderate increase of a good 0.2 percent is emerging for the start of 2023. A technical recession—a decline in economic output for two or more quarters in a row—would thus be averted.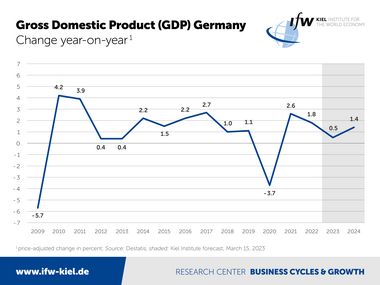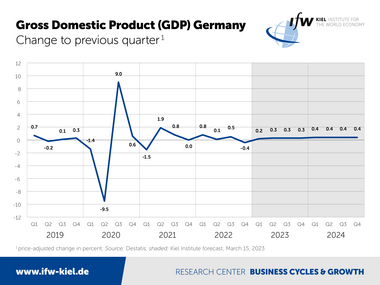 Price inflation remains stubborn for the time being, but the driving forces are changing. While energy price momentum is weakening at the consumer level, prices of other goods are accelerating with an inflation rate recently beyond 7 percent. Overall, inflation is estimated to be 5.4 percent in 2023 and around 2 percent in 2024.
"Clearly, monetary policy is in the driving seat to take decisive countermeasures," says Kooths. "Easing supply bottlenecks and fewer sick days can take some pressure off the kettle, but that's all. The government must also adjust its stand to overall economic possibilities. Economic performance has suffered as a result of the double-crises, so deficit-financed additional spending is fueling inflation at a correspondingly faster rate."
Expected wage increases in line with price stability
Real unit labor costs havefallen unusually sharply over the past two years as wages have significantly lagged domestic prices. "The ratio between what labor costs and what it earns is exceptionally favorable by long-term standards. This is employment-friendly and counteracts the dampening effects of the energy crisis. The presumed wage increases ofjust over 5 percent this year and just under 6 percent next year are unlikely to have any second-round effects on inflation and are therefore in line with price stability," Kooths says.
For this reason, too, the labor market remains robust despite general economic weakness. Employment has been on an upward trend until recently. The number of people in work has been rising since the summer without any major change in pace and most recently stood at just under 46 million. It is now reaching its peak and will start to decline next year due to demographic developments. The unemployment rate isfalling from 5.5 percent most recently to an average of 5.4 percent this year and 5.2 percent next year.
Structurally higher energy prices as burden for economic activity
Bubbling revenues and less spending on energy subsidies are taking pressure off public budgets. Their deficit in relation to nominal GDP is expected to shrink from 2.6 percent in 2022 to 1.4 percent in 2024. The debt level will decline from 66.4 percent to 63.5 percent during this period.
High energy prices and a subdued global economy are weighing on German exports. However, the recovery in the euro area and emerging markets in particular will have a stimulating effect from the middle of the year. In addition, companies in the manufacturing sector are benefiting from their high order backlogs, which they can now work off in view of easing supply bottlenecks. Overall, the Kiel Institute expects exports to grow by 0.5 percent this year and 3.5 percent next year.
"The overall weak economic momentum should also be read as a significant loss of economic strength," Kooths says. "Structurally higher energy prices are making energy-intensive production in this country increasingly unprofitable and are also weighing on the country as a production site as a whole. In addition, important other locational factors such as skilled labor, infrastructure, tax burden, and regulation are not in the best shape. This not only costs prosperity, but also exacerbates distribution conflicts."
More information on the development of German growth after the energy crisis can be found in our medium-term projection, which will be published on Friday.
Euro area and global economy: growth is slowly improving
Looking forward, the euro area economy is characterized by stronger private consumption, but overall economic momentum will remain subdued due to the significant tightening of monetary policy.
Overall, GDP is expected to increase by 1.1 percent in the current year, followed by growth of 1.6 percent in the coming year. After 5.5 percent this year, inflation is expected to be comparatively moderate again next year at 2.6 percent.
From a global perspective, the energy markets are easing for the time being. However, monetary policy is increasingly weighing on growth and supportive fiscal programs are coming to an end. In China, the economy will pick up noticeably after the end of the No-COVID policy. Overall, global output will increase by only 2.5 percent in 2023 and then expand again somewhat more strongly by 3.2 percent in 2024.