Statement
Brexit "Germany loses an important ally"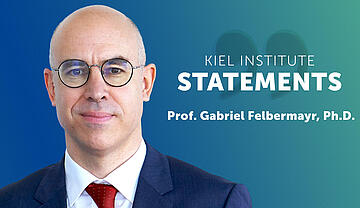 "The elections give Boris Johnson a clear mandate to get 'his' Brexit agreement through the House of Commons. Britain's EU membership will thus be over by 31.1.2020. The option that the country could still remain in the EU is finally off the table. This is a sad moment for Europe and Germany. The EU will be substantially transformed as a result. Germany loses an important ally for free trade and the common market.
The withdrawal agreement regulates the Brexit, but not the EU's future relations with the United Kingdom. The clock starts ticking on 31.1.2020. A comprehensive agreement is now to be negotiated by the end of 2020. This would have to go much further than the most ambitious free trade agreements the EU has ever negotiated, e.g. with Canada. These talks have already taken many years, and the agreement with Canada is still not fully in force.
Because the agreement with the United Kingdom will also cover issues that do not fall solely within Brussels' competence, all EU states will have to agree, including some regional parliaments. And because the Brexit will certainly continue to polarise in Great Britain, the process will remain very difficult there too. There will probably again be extensions of deadlines and hanging games.
The uncertainty became less yesterday evening, but in an unpleasant sense: an exit from the Brexit is no longer possible. Whether it comes to a soft or hard or smart deal with the EU, however, is still at most uncertain.
The Kiel Institute asks the EU Commission for immediate start of negotiations on a deep and comprehensive agreement with the UK. The ideal outcome would be a Customs Association, where the EU and the UK jointly set their external trade policies and where the UK remains aligned to the EU Single Market as closely as possible. This is crucial for the EU and UK to remain relevant in world trade policy negotiations."