News
Ukraine Support Tracker: Despite military offensive, new pledges of support remain low
In the newly covered period, February 25 to May 31, the value of all recorded commitments to Ukraine increased by a good €13 billion to a total of about €165 billion; almost €9 billion were for military aid. Germany, now the second biggest contributor of military aid in absolute terms, increased its military pledges by €3.26 billion, or 76 percent, to €7.5 billion total. This includes additional battle tanks, Iris-T air defense systems and other weapons to strengthen Ukraine's air defense capabilities.
The EU increased the European Peace Facility with two additional tranches worth €1 billion each to a total of €5.6 billion.
For the entire year, Denmark promises military support worth €1 billion, including additional Leopard-2 tanks. This corresponds to a €765 million increase compared to late February 2023, a 175 percent increase. Poland pledged two new additional military aid packages worth a total of €581 million. One of the packages included the promise of 14 MiG-29 fighter jets, all of which have already been delivered to Ukraine. Slovakia is next to Poland the only other country that pledged and already delivered fighter jets. In total, Slovakian military aid increased by €191 million, more than tripling its military commitments to Ukraine.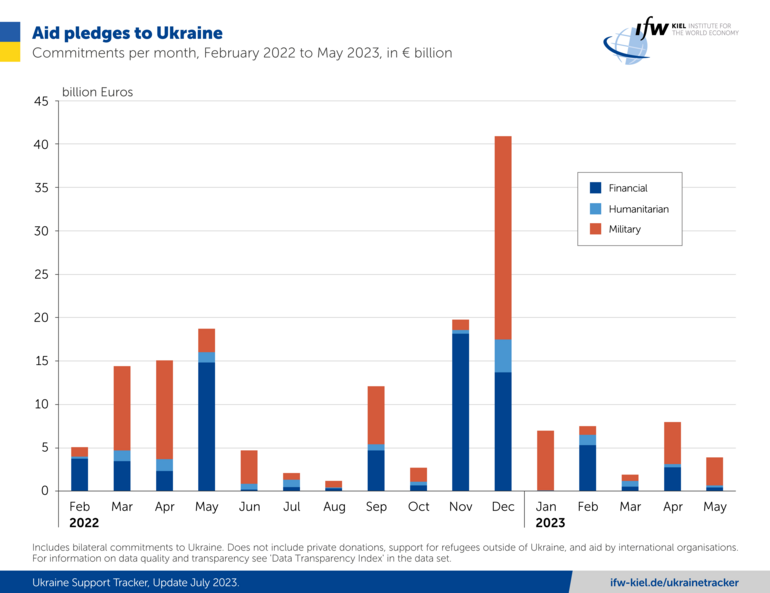 A new analysis of relative aid composition over time underpins the trend towards military aid. While in the first 10 months of the war military and financial aid have been fairly balanced, since October 2022 the share of military aid among the fresh bilateral commitments has steadily increased. In the beginning of 2023, over half of the newly pledged aid was of military nature. In April and May of 2023, this even increased to over 70 percent. At the same time, the share of bilateral financial assistance in the new packages has fallen to less than a quarter.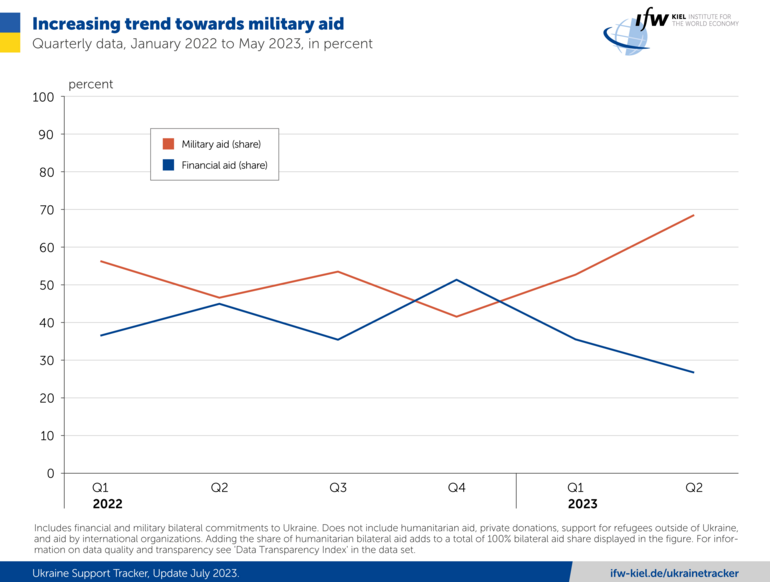 Despite this focus on military commitments, actual deliveries have been well below pledges. In general, only slightly more than half of the heavy weapons committed have been delivered. Especially Western partners like the U.S., Germany, and the United Kingdom, were fast to increase their committed sums, but deliveries remain well below promises. In contrast, Eastern European countries like the Czech Republic, Slovenia, Poland, and Slovakia, have delivered upwards of 80 percent of their promised heavy weapons.
"After a spike in new pledges before the anniversary of the start of the war, the overall level of new commitments from Ukraine supporters has trended downward again. Military pledges gain in importance with the duration of the war and Ukraine's offensive plans. But the gap between promised and delivered military aid is wide. This is especially true for EU countries and the United States," says Christoph Trebesch, head of the team producing the Ukraine Support Tracker and director of a research center at Kiel Institute.
Iceland is now added to the Tracker to further complete the list of donor countries. The Nordic country provided ̶ very transparently published ̶ equal parts of humanitarian, financial, and military aid amounting to €30 million, or 0.13 percent of its GDP.
About the Ukraine Support Tracker
The Ukraine Support Tracker tracks and quantifies military, financial, and humanitarian assistance pledged to Ukraine since January 24, 2022 (currently through May 31, 2023). Included are 41 countries, specifically the EU member states, the other members of the G7, Australia, South Korea, Turkey, Norway, New Zealand, Switzerland, Turkey, China, Taiwan, India, and Iceland. It includes pledges made by the governments of these countries to the Ukrainian government; aid pledged by the EU Commission and the European Investment Bank is listed separately; private donations or those from international organizations such as the IMF are not included in the main database. Nor does it include aid to Ukraine's neighbors, such as Moldova, or to other countries, such as for the reception of refugees.
Data sources include official government announcements and international media reports. Aid in kind, such as medical supplies, food, or military equipment, is estimated using market prices or information from previous relief operations. In cases of doubt, the higher available value is used. The Ukraine Support Tracker is constantly being expanded, corrected and improved. Feedback and comments on our methodology paper and dataset are very welcome. You can reach us at ukrainetracker@ifw-kiel.de or use our online feedback form.
More information and all detailed data can be found on the Ukraine Support Tracker webpage.