News
Joint Economic Forecast - Energy crisis: inflation, recession, welfare loss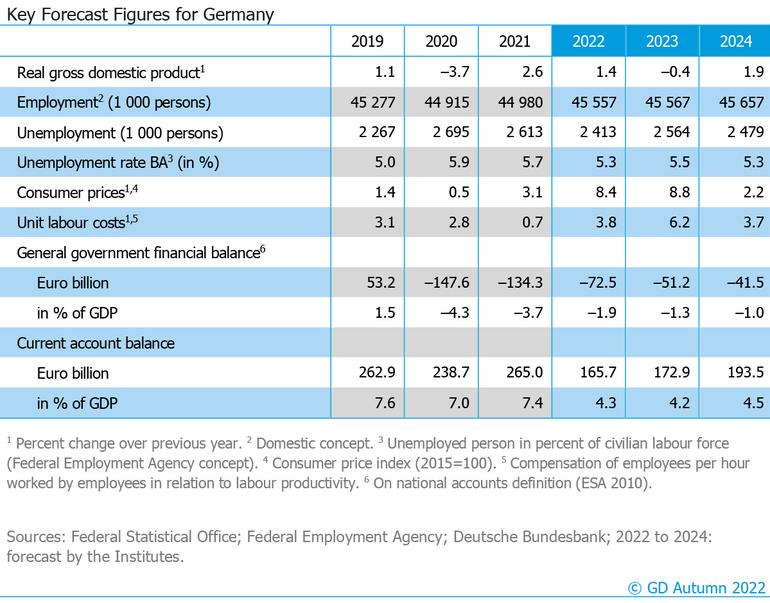 For the current year, the institutes are almost halving their spring forecast. For the coming year, they are lowering their forecast from 3.1 % to –0.4 %. This revision mainly reflects the extent of the energy crisis. For example, the combined economic output in 2022 and 2023 should be EUR 160 billion lower than it had been expected in the spring. The inflation rate is expected to increase further over the coming months. The average annual inflation rate for 2023 should climb to 8.8 %, slightly higher than the current year's figure of 8.4 %. Only in 2024 will the 2 % mark be gradually reached again.
The main reason for the deterioration in the economic outlook is the reduced gas export from Russia, which has eliminated a significant part of the gas supply and increased the risk that the remaining supply and storage volumes will not be sufficient to meet the demand during the coming winter. Against this background gas prices have skyrocketed in the summer. Businesses have already started to cut back their gas consumption noticeably. Even though the institutes do not expect any gas shortages under normal weather conditions over the winter, the supply situation remains extremely tight. Although the situation is expected to ease somewhat over the medium term, gas prices are likely to remain well above pre-crisis levels. This will mean a permanent loss of prosperity for Germany.
The labor market is having a stabilizing effect. Demand for new labor is likely to decline in view of the economic downturn. However, due to the shortage of skilled workers in many areas, companies will be keen to retain existing staff, so employment is only likely to fall slightly temporarily.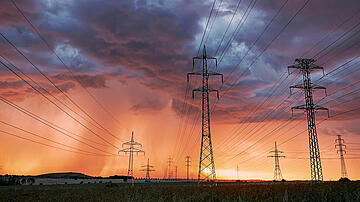 "The Russian attack on Ukraine and the resulting crisis on the energy markets are leading to a noticeable slump in the German economy," says Torsten Schmidt, head of economic research at RWI - Leibniz Institute for Economic Research and spokesman for the Joint Economic Forecast Project Group. "The high energy and food prices, which are likely to rise further in the coming year, are causing significant losses in purchasing power. Both low-income households and businesses are therefore dependent on further support from policymakers. In the case of businesses, however, care must be taken to avoid permanent subsidies. At least the labor market is showing signs of stability; due to the shortage of personnel in many sectors, no increase in unemployment is expected despite the economic crisis."
The Joint Economic Forecast was prepared by the ifo Institute (Munich), the Kiel Institute for the World Economy (IfW Kiel), the Halle Institute for Economic Research (IWH), and RWI – Leibniz Institute for Economic Research (Essen).
About the Joint Economic Forecast
The Joint Economic Forecast is published twice a year on behalf of the German Federal Ministry for Economic Affairs and Climate Action. The following institutes participated in the autumn report 2022:
ifo Institute – Leibniz Institute for Economic Research at the University of Munich in cooperation with the Austrian Institute of Economic Research (WIFO)

Kiel Institute for the World Economy (IfW Kiel)

Halle Institute for Economic Research (IWH) – Member of the Leibniz Association

RWI – Leibniz Institute for Economic Research in cooperation with the Institute for Advanced Studies Vienna