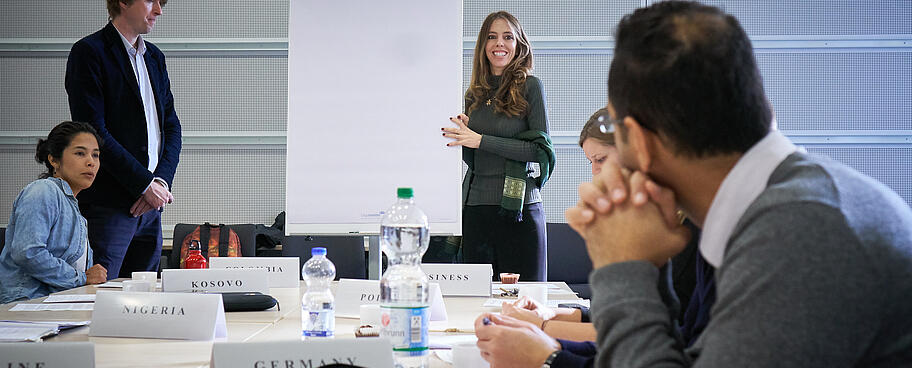 Advanced Studies Program
Select One Course
The ASP "Select One" course option provides intellectually curious and motivated participants who are interested in learning about particular issues at the frontier of current research to be taught by leading economists in the field. Participation in these courses not only provides a good way of kick-starting ongoing or future projects, but also enables participants to join a vibrant community interested in similar topics from Kiel and beyond.
Over the years, Ph.D students, staff members of national and international institutions, think tanks and financial companies have updated and deepened their economic research knowledge in one area of expertise by attending a course.
The "ASP Select One" option consists of various one-week courses which the Kiel Institute has developed in the context of its Advanced Studies Program in International Economic Policy Research. The courses cover the following areas: International Trade; Growth and Development; Open Economy Macroeconomics; Monetary Policy; International Finance; and a selection of courses focusing on Empirical Methods and Forecasting. Written exams are offered for all courses. All candidates can apply for participation in one or several courses of the program. If you are a Ph.D candidate, you are entitled to a substantially reduced course fee and you can apply for low-cost accommodation at the Kiel Institute´s student residence. Furthermore, numerous universities allocate ECTS Credits for each ASP exam taken. Do not hesitate to contact us if you need any additional information about forthcoming courses or which options might best fit your needs.
The ASP enabled me to be aware of the most recent developments in research related to International Economics and thereby strengthened my own doctoral research.

Edoardo

Warwick University
ASP Modular
Candidates can also apply for the "ASP Modular" and acquire the Advanced Studies Certificate over a period of 12-34 Months, without taking an extended leave of absence from their current duties. This is a particularly valuable additional qualification for professional careers for which rigorous research, impact on policy design and a global perspective matter. By joining the ASP Modular program, candidates can, not only leverage serious knowledge and methods gathered in Kiel in their day-to-day activities, but also empower their future career. Partial scholarships to cover tuition fees are available for participants in the "ASP Modular" program.
"If you want to be a participant in a high-quality lecture, discuss about your research with a leading scholar, network and share ideas with senior researchers and other Ph.D candidates interested in similar topics, join the ASP 'Select One' Course of your choice."

Olivier Godart

ASP Director of Studies
I have learned a lot about what's currently going on in different fields of research. This helped me shape my interests for the upcoming PhD research. After my master's, I didn't really feel qualified to make the decision whether to do a PhD or work in the private sector right away.

Felix C.

PhD candidate, European University Institute, Florence