Networks
DFG Cluster of Excellence Precision Medicine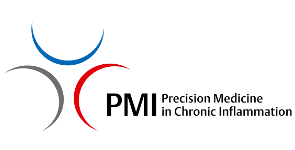 precisionmedicine.de
Cooperates with
The goal of this interdisciplinary research collaboration is to establish precision medicine in chronic inflammation, taking the patient's individuality and environment into account.
Clinical trials and translational research are used as instruments to facilitate the transfer of new knowledge from basic research into medical practice – "from laboratory bench to patient bedside." The longer-term vision is to achieve complete control over the entire disease process – by initiating preventive interventions, diagnosis and treatment at the earliest possible stage of disease progression.
The Cluster of Excellence Precision Medicine in Chronic Inflammation (PMI) is funded by the Excellence Strategy of the German National Science Foundation (DFG). Its main research focus is on chronic inflammatory diseases of barrier organs, in particular of the bowel, the skin, the lung and the brain, as well as inflammatory rheumatic diseases.
The cluster is a joint venture of Kiel University and the University of Lübeck, together with the Schleswig-Holstein University Medical Center, the Leibniz Research Center Borstel, the Max Planck Institute for Evolutionary Biology, Plön, the Leibniz Institute for Science and Mathematics Education, the Muthesius Academy of Fine Arts and Design and the Kiel Institute for the World Economy.
Kiel Institute Researcher Michael Stolpe is a founding member and leads the economics research stream within the cluster.